Quality
We are accredited by Deutsche Akkreditierungsstelle according to DIN EN ISO/IEC 17025:2005. Our certificate as well as our measures you can find here

.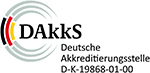 Our company is certified after successful introduction of a quality management by the TÜV Thuringia. You can download our current certificate here

.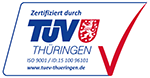 We are sponsored by the Land of Thuringia by funds from the European Social Fund. More information can be found here

.

Our partners and customers
Our highest goal is the quality of our manufactured products as well as the effectiveness of our services and the associated satisfaction of our customers. Therefore we cooperate with reliable and considerable enterprise partners. Our gauges and measurement devices find customers within the range of the automobile industry, the measuring instrument production, air and space travel as well as in the machine and tool construction.
Our customers are, among others:
Audi AG
BMW AG
BorgWarner Transmission Systems Arnstadt GmbH
Carl Zeiss Jena GmbH
Daimler AG
Denso Manufacturing Hungary Ltd.
Diatest H. Költgen GmbH
FTE automotive GmbH
General Electric
Hermann Erkert GmbH
Linamar Hungary Zrt.
Robert Bosch GmbH
Marposs GmbH
Maschinenfabrik Alfing Kessler GmbH & Co. KG
MTU Friedrichshafen GmbH
N3 Engine Overhaul Services GmbH & CO. KG
Philipp Hafner GmbH & Co. KG
SKF GmbH
Voith Turbo GmbH & Co. KG
Volkswagen AG
Volvo AB
ZF Friedrichshafen AG